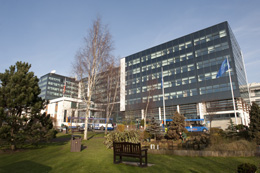 The University of Derby has been named in the Top 50 of The Guardian University Guide 2015. A significant distinction that comes to confirm the high quality collaborations of Mediterranean College (MC), remaining committed to its vision and its goals, that want the College to be a private institution of Higher Education with a leading role in the fields of Business Administration, Computing, Humanities and Engineering, by offering programmes of high quality.
Derby's rise of 29 places – to 50th place in the independent national rankings (out of 116 institutions assessed) this year, from 79th in the Guide's 2014 edition (published last year) – is the second highest jump in the country.
Mediterranean College maintains a strategic franchise agreement with the University of Derby, that enables University of Derby's programmes to be delivered as identical in Greece. A collaboration in multiple levels, that according with the Guardian rankings places Mediterranean College among the top Greek education institutions, while at a college level puts MC in the first place in Attica and in the second place throughout Greece.
Apart from the general presentation of the rankings, the Guardian University Guide evaluates Universities per programme, in which evaluation the University of Derby impresses with the high scoring. It is worth mentioning that in the evaluations in the fields of Engineering, Business Administration, Marketing and Education – and with regards to the British Universities that are represented in Greece – Mediterranean College obtains the first place throughout Greece.
University of Derby succeeded in corresponding adequately to the quality measures used by the Guardian, a fact that indicates the constant evolvement and progress of the university, according to the Committee criteria. The criteria entail employability opportunities, tuition fees, the relationship between students and the academic staff, grades as well as student experience. A significant number of these indicators are coming directly from student researches and the annual National Student Survey (NSS) of the British seniors.
For more information regarding the programmes of University of Derby and the application/registration process, please contact Mediterranean College:
Athens, 107 Patission & 8 Pellinis, tel.: +30 210 8899600
Thessaloniki, 9 Valaoritou, tel.: +30 2310 287779
Alternatively, please complete the application form here.