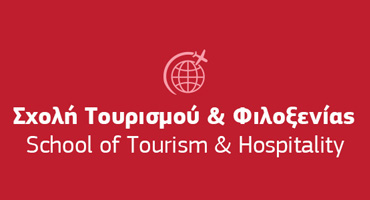 Προγράμματα
1 year full-time or 2 years part-time
---
MSc International Hospitality Management
No1 UK University in Greece | TOP5 in the UK.

Accredited by the Institute of Hospitality.

English delivery enhances career perspectives.

Networking with 50+ TOP Hospitality Organisations.

Course Information
This highly respected MSc International Hospitality Management master's degree is accredited by the Institute of Hospitality. It will enhance your leadership and management potential in the hospitality industry.
This course is ideal for you, if you're a professional looking for career progression in hospitality management or a professional from another discipline looking for a career change. It has been designed for students who are interested in developing their leadership and management potential. You will develop your understanding of the management of cultural diversity, the internationalisation of the industry, marketing, finance and strategy in a wide variety of contexts, including hotels, exhibitions, festivals, product launches, trade shows and sporting events.
The ideal candidates are expected to have graduated from University from any discipline or field. The MSc in International Hospitality Management is ideal for Business School graduates who wish to specialise in one of the most dynamic sectors of most economies around the world. Furthermore, the programme is an excellent choice for those already working in the Tourism industry and wish to gain a postgraduate qualification in the subject.
Requirements for registration:
University degree in any discipline
CV in English
Reference Letters (2)
Good command of English (level IELTS 6.0 or equivalent)*
Academic Interview
Photos (2)
Copy of identity card/ passport
* Candidates without official English language certificates can sit the English language placement test of Mediterranean College.
The MSc in International Hospitality Management can be attended either on a full-time or a part-time basis and includes four 20-credit modules, one 40 credit-module and a thesis of 60 credits. Learning in each module will be directed through lecturing input, module teaching materials and a variety of supporting learning activities. However, you should keep in mind that at Master's Level you will spend approximately 60% of your time on independent learning, review, revision and assignment preparation. On average, 20 credit modules take 200 hours to complete, 40 credit modules take 400 hours and 60 credit modules take 600 hours.
All modules are taught within the academic calendar (October through to May), but the pattern of delivery is flexible depending on the needs of the cohort, industry and university. It may include weekends, a block study week, weekly during the academic year or blended learning.
Year 1

Year 2

Semester 1

Semester 2

Semester 1

Semester 2

Managing the International Hospitality Service Experience:

Service quality & customer satisfaction
Customer relationship management and customer loyalty

Integrated Business Management:


The global economic environment
Human Resources Management
Data information analysis
Current issues & trends in Hospitality
Entrepreneurship

Operations and Project Management:

Operations management in Hospitality
Forecasting, planning & control
Project management

Strategic Directions:

Strategic thinking
Strategic planning & implementation
Scenario analysis & risk management

Research Methodologies:

Research design
Research strategies

Independent Studies
The teaching and learning methods we use include lectures, seminars, tutorials, workshops, practical fieldwork exercises and online learning materials. The assessment methods we use are designed to hone your professional skills and include briefing reports, pitches, presentations, essays, unseen examinations and case studies.
By using guest speakers, industry days and having the chance to work on real life problems, you will be able to combine theory with practice and gain the skills and confidence you need to fast track your career. As part of the course, you will regularly get involved in consultancy work. You will meet a variety of industry representatives, who regularly collaborate with us. All the modules involve experiential learning, which will help you to add to your skills base in your individual portfolio. Our team specialises in international hospitality management, not just generic business and our lecturers are experienced scholars and leading practitioners in the hospitality industry.
The programme is designed and offered by the University of Derby, No5 UK University for Tourism & Hospitality (Guardian University Guide 2020).
Teaching in the English language gives a competitive advantage to our students, who will be able to demonstrate their language skills in practice.
The programme is accredited by the Institute of Hospitality, confirming its validity and connection to the industry.
The programme has an international and applied perspective, as it is not a theoretical course in Tourism, but an applied programme in Hospitality Management. Therefore it best suits the staffing needs of hotels, caterings, resorts, etc., providers of thousands of jobs in Greece and internationally.
Students are given internship opportunities in the College's wide network of hospitality businesses (hotels, resorts, cruise ships and other venues).
Mediterranean College offers academic support to postgraduate students by providing sessions for their smooth adjustment into the learning process (academic writing, referencing, research skills, etc.).
Teaching and learning is complemented by guest lectures and real-life consultancy work in the industry.
Student assessment is professionally oriented and creative and not based on written exams, but on project-type assignments and case-study analyses.
Mediterranean College has developed an integrated Employability plan, the MC Employability Scheme, focused on the contemporary needs of our Hospitality students: career counseling and professional development, regular guest lectures, real projects, seminars, networking events, employability fair, internship scheme.
Whether you are a recent graduate, or an industry practitioner, this course will help you develop the knowledge and skills you need to apply for management positions in the international hospitality industry and related sectors. Some of our students have started their own hospitality business or have accessed senior management positions in 4 and 5 star international hotel chains; while others have moved into academia and the research arena.
More specifically, graduates can pursue careers:
in hotels
in resorts
in theme parks
in cruise lines
in catering firms
in tour operators
in travel agencies
in consultancy companies
as freelancers / entrepreneurs
Testimonials
At Mediterranean College I studied the BSc (Hons) Applied Psychology course, which offered me the necessary skills to be accepted for postgraduate studies in London (MSc Clinical Applications of Psychology – Kingston University London) and become a member of the British Psychological Society – MBPsS). Starting from scratch, the College and its outstanding academic tutors provided me the theoretical and practical background to be employed and continue to work until...
Spyros Vlaseros, BSc (Hons) Applied Psychology
I started my studies at Mediterranean College in 2008 when I followed the BSc in Psychology and Counselling course through the University of Teesside. Mediterranean College provided me with the foundation upon which I based my career. After completing the BSc, I moved to England, obtained two Master's degrees and started working as a research assistant at the University of Teesside. I am completing now my final PhD year with...
Theodora Machaira, BSc (Hons) Psychological Sciences & Counselling
Completing the academic programme BSc in Counselling & Psychology at the Mediterranean College, I managed to register with the British Psychological Society as a Graduate Member, I have been working as an independent mental health professional with my private practice until today, Ι linked with other professionals in the Psychology and Mental Health field, I wrote two psychology books which have been officially published, and also, having an accredited (by...
Evangelos Kousiadis, BSc (Hons) Psychological Sciences & Counselling