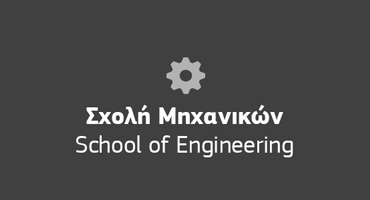 Προγράμματα
---
MSc Mechanical Engineering and Design
TOP20 UK University in Mechanical Engineering.

Designed in consultation with leading Organisations.

Academic staff consists of active professionals & researchers.

Modern facilities & labs.

Course Information
The MSc Mechanical Engineering and Design is a unique and particularly contemporary course of study, that encompasses knowledge from all areas related to the Mechanical Engineer profession and includes modules that teach the latest industry developments and their application on real Engineering problems. Its aim is to equip students with the necessary technical skills and theoretical background for the development of Mechanical Engineering projects in the field of Construction or Energy.
At the same time, the programme provides students the opportunity to carry out their own research, under the supervision of experienced tutors, which can lead to publications in academic journals and participation in international conferences, or be used by collaborating companies during the design and construction of real projects.
The programme addresses university graduates with a first degree in Mechanical Engineering or a similar discipline.
Requirements for registration:
Copy of undergraduate degree
Copies of professional qualifications and work experience documentation (if available)
CV in English
Reference Letters (2)
Adequate knowledge of English (IELTS 6.5 or equivalent)*
Academic Interview
Photos (2)
ID-Card/ passport
* Candidates without official English language certificates can sit the English language placement test of Mediterranean College.
The course can be completed in 1 year (full-time October start), in 1,5 year (full-time February start) or in 2 years (part-time). It includes six 20-credit modules and a diploma thesis of 60 credits. The modules are delivered on a semester basis.
Students specialise on contemporary applications of the Mechanical Engineering science, such as designing and improving high performance engines, failure analysis and prevention, environmental risk assessment, energy conservation and management, heating, cooling and air-conditioning systems, project management strategies and advanced mechanical design of prototypes.
A significant advantage of this course is that as part of their final thesis, students work at a high research level and – under the supervision of experienced academics – produce projects that can lead to publication in international conferences.
| | | |
| --- | --- | --- |
| Semester 1 | Semester 2 | Semester 3 |
| Research Methods, Environmental Risk and Responsibility | Energy Management and Conservation | Independent Scholarship |
| Forensic Engineering, Failure Analysis and Prevention | CPD and Strategic Management | |
| Advanced Mechanical Design and Manufacturing Engineering | Heating, Cooling and Air Conditioning (optional) | |
| | Applied Internal Combustion Engine Thermosciences(optional) | |
Mediterranean College aims to provide students a multi-dimensional learning experience. Learning and teaching is achieved through different means:
Lectures, to cover theory.
Seminars, to solve problems and discuss case studies.
Computer labs, to design and train in special simulation software.
Clinics (supporting classes), to tackle the most difficult parts of the modules.
Tutorials, to provide one-on-one support to students.
Independent learning, where students engage in self-directed study.
Students are assessed through:
Individual course work.
Group course work, for more complex projects that require teamwork.
Presentations of course work, to enhance students' presentation skills.
On line tests, to assess knowledge of theory and problem solving capability.
Student learning is further enhanced through:
Guest lectures, by industry experts who provide contemporary professional expertise and invaluable networking opportunities.
Supervised independent study, where students research particular industry problems and propose the implementation of original and innovative solutions. The best student projects can be led to international conference publications, under the guidance of experienced academic supervisors.
Lectures and Forums, that focus on relevant and applied fields of Mechanical Engineering and are supported by leading companies, public and private organisations and prominent professionals.
The annual Student Excellence Conference of Mediterranean College, where best student projects are presented to students, staff and potential employers.
Students acquire knowledge from all core Mechanical Engineering fields: Construction, Energy and Production Management. This balanced course content leads to flexible, highly competitive and well-rounded professionals.
The course includes innovative modules for Greek standards, such as Applied Internal Combustion Engine Thermosciences, Forensic Engineering Failure Analysis & Prevention and Energy Management & Conservation. Students are trained in fields that are not widely spread and become highly sought-after in the job market.
Students use various software applications, such as Matlab, ANSYS and SolidWorks. This knowledge gives them a competitive advantage for their future employment.
Students are assessed mainly through written coursework that involves real industry case studies (e.g. planning & controlling heating, cooling and air-conditioning systems, applying smart management systems on existing structures aiming to enhance their sustainability and accessibility e.g. for disabled people, applying advanced manufacturing technologies in industry, etc).
Students produce individual research on contemporary Mechanical Engineering aspects, which – under the guidance of their experienced academic supervisors – can lead to publications in international conferences or academic journals.
Mediterranean College puts emphasis on the academic support of students and the learning process is facilitated through the University and College e-learning platforms that provide access to thousands of academic journals and books in the Engineering field.
Mediterranean College has developed an integrated Employability plan, the MC Employability Scheme, focused on the contemporary needs of our Engineering students: career counseling and professional development, regular guest lectures, real projects, seminars, networking events, employability fair, internship scheme.
All academic staff are accredited lecturers of the University of Derby for every module they teach. Mediterranean College implements an integrated system of recruitment, assessment and continuing professional development of academic staff, so that students receive excellent teaching and personal support to develop their social and professional skills.
The University of Derby (Guardian University Guide 2019) is a TOP-18 UK University for Mechanical Engineering and in the TOP-10 for student employability. This stems from constantly developing the curriculum as directed by employers, professional and accreditation bodies.
Graduates may apply for registration with a UK professional body (e.g. IMECHE – Institution for Mechanical Engineers) or to apply for the professional recognition of their degree in Greece.
MSc Mechanical Engineering and Design graduates can seek employment in:
Industrial units
Technical/ construction companies & agencies
Engineering planning & consulting agencies
Renewable energy sources companies
Car/ yacht dealerships
Mechanical equipment trading companies
Repair companies
Maritime companies
Workshops and laboratories
Consulting agencies
and as self-employed Mechanical Engineers
Graduates may also seek employment overseas or pursue further study towards a doctorate degree.
Testimonials
At Mediterranean College I studied the BSc (Hons) Applied Psychology course, which offered me the necessary skills to be accepted for postgraduate studies in London (MSc Clinical Applications of Psychology – Kingston University London) and become a member of the British Psychological Society – MBPsS). Starting from scratch, the College and its outstanding academic tutors provided me the theoretical and practical background to be employed and continue to work until...
Spyros Vlaseros, BSc (Hons) Applied Psychology
I started my studies at Mediterranean College in 2008 when I followed the BSc in Psychology and Counselling course through the University of Teesside. Mediterranean College provided me with the foundation upon which I based my career. After completing the BSc, I moved to England, obtained two Master's degrees and started working as a research assistant at the University of Teesside. I am completing now my final PhD year with...
Theodora Machaira, BSc (Hons) Psychological Sciences & Counselling
Completing the academic programme BSc in Counselling & Psychology at the Mediterranean College, I managed to register with the British Psychological Society as a Graduate Member, I have been working as an independent mental health professional with my private practice until today, Ι linked with other professionals in the Psychology and Mental Health field, I wrote two psychology books which have been officially published, and also, having an accredited (by...
Evangelos Kousiadis, BSc (Hons) Psychological Sciences & Counselling