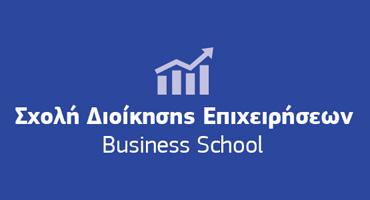 Προγράμματα
---
BA (Hons) Business Management
No1 in Greece | TOP10 in the UK.

CMI accreditation (Chartered Management Institute).

4 available pathways

Links with 120+ businesses

Course Information
The Mediterranean College Business School is one of the first Business Schools to be established in Greece (1977) and the first to offer an MBA, back in 1989. The BA (Hons) Business Management has been designed by the University of Derby, a TOP10 UK University for Management studies, according to the Guardian University Guide, 2020.
Developed in close consultation with the premier UK professional body for managers, the Chartered Management Institute (CMI), this course puts you on the fast track to success. It is one of the few where you'll graduate with a highly regarded BA (Hons) Business Management as well as the CMI Level 5 Diploma in Management and Leadership. With these qualifications on your CV, you'll signal to prospective employers that you're suited for senior leadership roles and rapid promotion. The Diploma is the benchmark qualification for full CMI membership and takes you a step towards Chartered Manager status. There is no need to take extra exams or coursework to achieve the Diploma: our combined module and CMI assessments give you a smooth route to both qualifications.
What you will study
All Business Management students study the same modules in the first year, so you'll gain insights into the major business disciplines. After your first year, you can choose to transfer to one of our specialist pathways, combining Business Management with Marketing, Finance or Shipping.
Through this course you'll develop your understanding of the external economic & business environment, by discussing recent and relevant case studies. We put emphasis on entrepreneurship so that you'll know how to start your own business or how to expend it internationally. Up to date digital marketing skills will make you productive from the start of your career, while business ethics will direct your business practice.
We take a 'scaffolded' approach to learning, so you'll have full support in the early stages of your course and can gradually move towards stronger understanding and greater independence. It's a smooth transition to ease your way into both university-level study and business management practice.
The degree is awarded by the TOP ranked UK University in Greece and TOP10 in the UK.
It is CMI accredited, so you'll earn the CMI Level 5 Diploma in Management & Leadership.
You can change pathway in your 2nd year: Marketing, Finance or Shipping.
You can participate in a student exchange week at the University of Derby.
You are taught applied content in sought-after areas: international business development, entrepreneurship, digital & social media.
You get familiar with all business functions, through our business simulation lab and the SimVenture awarded software
You undertake a live consultancy project in one of our partner businesses.
You become a bilingual business executive, with exceptional academic and career prospects.
You'll learn through lectures – some by guest lecturers, seminars, one-to-one or small group tutorials and self-directed study. You'll take the theories off the page and put them into practice in real-world scenarios. You can test your ideas through business simulations, topical case studies and employer-led projects. A live consultancy project, where you help an employer to improve business performance, will build your research, project management, problem-solving and decision-making skills.
Assessment is mainly via coursework which can take forms such as, essays and report, group project work, research and consultancy projects, presentations, posters, design of digital materials, in-class tests, computer-based assessments.
Courses
Finance and Business Performance
This module will assume no prior accounting knowledge. You will learn how to prepare accounts for small businesses and then apply that knowledge to larger organisations.
Business Economics
Economics is all around us, present in almost every aspect of our lives. Knowledge of economics will therefore provide you with an essential insight in to how markets work and how firms and consumers make decisions in market economies.
Developing an Enterprising Mindset
Enterprising individuals are necessary within the economy as they create jobs, wealth and value. These individuals do this through applying an enterprising mindset, an individual and unique combination of enterprising behaviours, attributes and skills which can be used in a variety of contexts.
Understanding People in Organisations
This module introduces organisational behaviour (OB) theory and research to help you gain an understanding of the range of individual, group and organisational factors which can influence the way that employees behave in the workplace.
Understanding the Global Business Environment
Key to a successful career in business and the ability to make an impact is having an understanding of how different business departments and functions work (whether locally or globally) and how they can impact each other, such insight can be termed as having business acumen.
Marketing Fundamentals
This introduction to the "fundamentals of marketing" module will provide you with a basic understanding of the current and emerging marketing principles and techniques within the business environment.
Academic Skills
You develop essential academic skills to help you succeed with your course, such as ICT, academic writing, research and referencing.
English for Business I
Students will develop their general English skills in reading, writing, listening and speaking, and be provided with an introduction to academic English. Students will develop their grammatical, phonological and general and Business specific lexical awareness. By the end of the module students' language for academic study should be at a mid B2 on the CEFR equivalent to IELTS 5.5.
Quantitative Skills for Business
This module develops key skills for your future employment in business - the ability to use spread sheets for quantitative analysis, and the skills to interpret and communicate the results of data analysis. These are key skills required by the Chartered Management Institute.
Managing Performance through People
Managing the performance of staff is essential to the smooth running of organisations. This module analyses the range of human resource management (HRM) activities undertaken within organisations to manage the performance of its employees and explores the devolution of many of these roles and responsibilities to line managers. It provides an introduction to the knowledge and skills required to undertake these activities professionally and effectively in the workplace.
Applied Operations Management
The modern business environment is highly volatile and intensely competitive and is likely to remain so for the foreseeable future. The role of the operations function - how the organisation actually sources, produces and delivers goods and services to demanding customers - becomes a key contributor to superior performance and customer satisfaction.
Principles of Responsible Management
This module aims to provide you with knowledge of the responsible leadership including exploring concepts of ethics, global social responsibility, and creation of sustainable social, environmental and economic value for organisations and corporations.
Digital and Social Media
This module will give you the tools, techniques and theory behind how digital marketing works within a business environment.
Enterprise Management
The module aims to bring together elements of business management which are usually taught separately, for example: enterprise and entrepreneurship, human resource management, finance, marketing, innovation and logistics and international business.
English for Business II
The module builds on English I and further develops students' general and academic English skills in reading, writing, listening and speaking. Students will be exposed to more advanced forms of academic English. Students will further develop their grammatical, phonological and general and Business specific lexical awareness. By the end of the module students' language for academic study should be at a B2/B2+ on the CEFR equivalent to IELTS 6.0 or above.
Global Business and Strategy
This module studies the global business using a combined strategic and economic approach. As part of this module, you will explore the recent major global economic shifts and analyse current international business events.
Developing Leadership and Management
This module is about the concepts of Leadership and Management. It explores the similarities and differences in the roles and responsibilities of leaders and managers in the workplace and the development of leadership theoretical approaches as well as the practical application of these within organisations. Students will analyse the skills and competencies of effective organisational leaders and examine alternative methods of leadership development to enhance these.
The Lean Business Venture
Developing a business opportunity, whether in a new venture or any existing business if often about spotting what you think is an opportunity and then developing a product or service to address that opportunity. However, businesses often develop new products and services in isolation from customers as they do not want their ideas copied by competitors. However, if there is no conversation with and feedback from the potential end customer during this phase, there is a high risk of wasted time and money as that the product will be require further development at best and at worst, could be a total failure.
International Entrepreneurship
This module seeks to develop your understanding of the emerging area of international entrepreneurship and how you can apply that knowledge in a real life situation.
The Business Consultancy Project
Improvements to processes, services, products, people, and systems are core to the strategy of organisations. Improvements bridge the gap between current and required performance to add value and achieve and sustain a competitive advantage in the long-term.
Admission Requirements
This course is right for you, if you are a high school graduate of any discipline with the necessary English language skills, who aspires to build a career in Business or start your own company.
The minimum English language requirement for the bilingual course (Greek and English) is equivalent to IELTS 4.5 (B1) and for the English-taught course is equivalent to IELTS 6.0 (B2). If you do not possess an official English language certificate, you can sit the College's internal placement test.
Moreover, you'll be asked to submit a reference letter from a tutor, and you'll be called for an academic interview with the programme leader.
If you are a holder of an IEK/ HND diploma or a University or College student in a relevant discipline, you may be granted advanced entry, through recognition of prior learning.
Application & Enrolment
We use a rolling admissions policy, so we accept applications throughout the calendar year until all available places are filled. Since this is one of the most popular courses at Mediterranean College, we urge you to submit your application in time.
We also offer multiple fee payment methods, individual payment plans and bursaries based on academic, athletic and socio-economic criteria.
Contact us today and find out more about this course and the available bursaries and funding opportunities. Our admissions advisors will provide you with all necessary information and will guide you though the application and enrolment process.
Degree recognition
Your degree is recognised in Greece as professionally equivalent to degrees awarded by Greek state universities. It is also recognized by the UK NARIC as academic and professionally equivalent to any UK degree.
Click here for more information on the degree recognition procedure by Greek authorities.
Postgraduate study
A business degree allows you to choose among a great variety of postgraduate or professional courses. At Mediterranean College you can study towards:
Alternatively, you can opt for an accredited CPD course at Mediterranean Professional Studies:
Leadership & Human Resources Management
Marketing & Sales Management
Finance for Small & Medium Businesses
Digital & Social Media
Shipping Management
Global Operations & Logistics
Hotel & Tourism Management
Healthcare Management
Sports Management
Career prospects
As a business graduate who can build your career in any business environment or develop your own business in Greece or abroad. You can secure positions in:
Multinational companies
Industrial production companies
Professional services (technology, consultancy, etc)
Tourism & hospitality enterprises
Banks & other financial services
Retail & other commercial businesses
Media and communications agencies
Shipping companies
Hospitals & other health services
Educational organisations
Non-governmental organisations
Testimonials
Studying at the MSc Marketing Management was a unique experience. I really enjoyed lectures and exchange of ideas in the class. I have developed skills in communication and team working and enhanced my research and analytical skills. Today, I feel very grateful to my professors and more confident for acquiring such important knowledge....
Antigoni Filipidou, MSc Marketing Management
My studies at Mediterranean College were the most creative and enjoyable period of my life, helped me to develop the elements of my personality. The conclusion; Never stop following your dreams....
Eleni Stamatiou, BA (Hons) Business (Marketing)
The MBA allowed me to acquire a lot of new knowledge, essential for my professional  career. A great thanks to both my family for their support and professors for being such inspiring and supportive....
Dimitrios Orfanoudakis, MBA