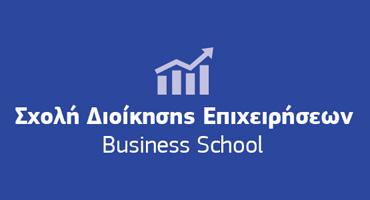 Προγράμματα




---
ΜΒΑ Global Finance
No1 ΜΒΑ in Greece (1989).

Global MBA in Finance, with a strong international perspective.

No1 in Greece | TOP10 in the UK.

Meets Chartered Management Institute (CMI) standards.

Course Information
Our MBA Global is a benchmark for successful managers in the modern, business world and aspires to become an incubator of the future leaders. The MBA Global Finance, designed by the University of Derby, is a contemporary course that fully responds to the needs of business executives for a holistic understanding of the organisational functions, the development of leadership capacity and the capability to successfully adjust within a constantly changing business environment. At the same time it focuses on Finance, covering in more detail issues on international finance and mergers and acquisitions.
During the course, students discuss topics on strategic management, business research and decision making while putting them into their own, business context. Highlight of the programme is the independent study which students undertake, where they have the opportunity to further develop their research and problem solving skills in Financial Management.
The MBA Global Finance is one of the few MBA programmes accredited by the UK CMI (Chartered Management Institute) and is also chosen by tens of employers every year as a training & development pathway for their executives.
The MBA Global Finance has been designed to offer senior executives, as well as those aiming at senior management positions in Finance, the opportunity for academic and professional development. It addresses people who wish to broaden and enrich their existing managerial experience and further develop their skills and knowledge. The participants of the programme must be capable of absorbing new knowledge and applying it into different contexts. The ΜΒΑ Global Finance of Mediterranean College attracts individuals from the private, public and non-profit sector. The learning experience is further enhanced by the wide range of professional and academic background of participants.
Requirements for Admission:
University degree in any discipline
At least two years of working experience
High school leaving certificate + extensive managerial experience (for non-University graduates)
Good knowledge of the English language (Level B2), for those who choose the English version of the MBA
Requirements for Registration:
Copy of last certificate of studies*
CV (in English)
Work Experience certificate
Reference Letters (2)
Good knowledge of English (CAE, IELTS 6.5, TOEFL 220, or equivalent IELTS 6.5 level or equivalent) – for the MBA taught in English **
Academic interview
Photos (2)
Copy of ID-Card/ passport
*Candidates without a first degree are also encouraged to apply for the programme. Factors like the possession of other professional qualifications, proven managerial experience and commitment to continuing personal & professional development, may contribute to the admission to the programme.
** Candidates without official English language certificates can sit the English language placement test of Mediterranean College.
The MBA stretches across two, full academic years, comprising six (6) 20-credit modules, two (2) 0-credit modules focusing on professional development and a diploma thesis of 60 credits.
Year 1
Year 2
Semester 1
Semester 2
Semester 3
Semester 4
Strategic and Financial Performance Management
Business research Methods and Data Analysis
Critical Perspectives in Strategic Management and Leadership
Mergers and Acquisitions
• Fundamental analysis of corporate performance

• Shareholder value creation

• Capital Investment Appraisal

• Budgeting

• Strategic management accounting

• Primary data collection methods and tools

• Basics of qualitative and quantitative research designs

• Secondary data collection

• Sampling techniques and analysis

• Content analysis

• Managing Strategic Change

• Leadership styles and organisational cultures

• Corporate Governance, Social Responsibility and Ethical issues

• Globalisation and Strategic management theories

• Innovation

• Corporate Level Strategy and culture

• Financial and strategic acquisitions

• Capital budgeting

• Corporate strategy and organising for acquisitions

• Leveraged buyouts

• Deal structuring and negotiation

• Target valuation

• Financing the acquisition

• Legal issues

• Bid strategies and tactics

• Defences against takeovers

• Post-acquisition integration and organisational learning

Transforming Personal Skills
International Finance
Global Strategic Operations Markets and Resources
Career Coaching and Mentoring
• Self-Management, time management, prioritizing, meeting deadlines

• Communication skills

• Presentation skills

• Team working

• Personal organization and Planning

• Problem Solving

• Academic practice – Critical, professional and academic writing skills, avoiding plagiarism

• Global financial system

• Spot and forward market

• Purchase Power Parity, Interest Rate Parity

• Hedging

• Settling international transactions

• Capital structure

• Eurocurrency and Eurobonds Short

• International investment appraisal methods

• Business Operations as a System

• Sustainability

•The impact of the complex external environment

• Understanding the needs and values of customers

• Marketing tactics

• innovation

• Product and services designs, 7Ps

• Marketing planning,

• Strategic marketing

• Understanding personality and personal style at work;

• Leading self and others

• Authentic leadership

• Emotional Intelligence

• Coaching skills

• Giving and soliciting feedback

• Self-assessment/ evaluation tools

Independent Study (60c)
The programme develops progressively, thus allowing students to enhance and apply skills on critical analysis and synthesis, strategic thinking and evidenced based practice. Emphasis is placed on putting theory into practice, with interconnecting modules that integrate the whole spectrum of organisational functions: strategic management, financial & risk management, leadership & human resources, marketing, operations & supply chain management. Modules are not designed in isolation to cover specific business functions. On the contrary, modules incorporate a wider content that covers the interaction of different management fields in an organisation (such as operations and marketing, financial and strategic management etc).
Learning and teaching is achieved through the use of modern methods, aiming to achieve maximum results: lectures, guest lectures, seminars, labs & workshops, tutorials, case study discussions, role plays, business simulations, and independent study.
Assessment methods also vary, including individual and group course-work, presentations, reports, self-reflections, online tests and real business projects. The combination of all these different assessment methods facilitates the development of students' skills on communication, analysis – synthesis, problem-solving, writing presentation, and self-evaluation.
The student learning experience is further enhanced by the well-balanced mixture of the participants, who represent different academic and professional backgrounds, as well as the Mediterranean Business School's further activities (such as the Student Excellence Conference, guest lectures, etc).
Mediterranean College Business School is one of the first private business schools established in Greece (1977) and the first to offer an MBA (1989).
The University of Derby is the No1 UK University in Greece for Management Studies (Guardian University Guide 2016) and overall ranks among the TOP-50 UK Universities.
This is the only Global MBA in Greece – to be found in a College – giving an international perspective to graduates.
Its content is accredited by the Chartered Management Institute (CMI), the leading professional institute for managers and leaders in the UK, giving graduates the opportunity to apply for a Chartered Manager status.
It is an Executive MBA, given the high proportion of middle-level and senior executives that participate in the course.
Participants have excellent networking opportunities, through the MBA student & alumni club and our wide network of industry partners.
It's the only MBA with dedicated courses on developing soft and professional skills, such as career coaching, mentoring, teamworking, decision making, presentations, negotiations etc., essential for the modern, multi-skilled manager.
It focuses on putting theory into practice, which is supported by the diverse teaching and assessment methods used, the professional expertise of the teaching staff and the real-life projects that can be based on students' individual working environments.
Mediterranean College puts emphasis on the academic support of its (mature) students, by offering personalised support and a structured series of academic development workshops (academic writing, referencing, etc)
Teaching is adjusted to the needs of working professionals (virtual electronic environment, e-library, personal support, assessment through written work), providing students the necessary conditions for successfully completing the course.
All academic staff are accredited lecturers of the University of Derby for every module they teach. Mediterranean College implements an integrated system of recruitment, assessment and continuing professional development of academic staff, so that students receive excellent teaching and personal support to develop their social and professional skills.
Business School students actively participate in activities organised within the MC Employability Scheme, the College's integrative employability development plan.

The University of Derby is the No1 UK University in Greece for Management Studies (TOP-10, Guardian University Guide 2020) and overall ranks among the TOP-26 UK Universities

Its content is accredited by the Chartered Management Institute (CMI) which guarantees that it keeps pace with the current professional requirements
Graduates are holders of an accredited Master's degree, professionally equivalent to those awarded by Greek Higher Education Institutions, and may enjoy the professional rights attached to their degree, after they proceed with the required recognition procedure by the Greek authorities.
MBA graduates have attained the required knowledge and skills to lead teams, departments, businesses and organisations within the Greek and international business context. They also have the necessary skills to start or develop their own business. If they wish, they can continue their academic studies towards a DBA or a PhD.
Testimonials
Studying at the MSc Marketing Management was a unique experience. I really enjoyed lectures and exchange of ideas in the class. I have developed skills in communication and team working and enhanced my research and analytical skills. Today, I feel very grateful to my professors and more confident for acquiring such important knowledge....
Antigoni Filipidou, MSc Marketing Management
My studies at Mediterranean College were the most creative and enjoyable period of my life, helped me to develop the elements of my personality. The conclusion; Never stop following your dreams....
Eleni Stamatiou, BA (Hons) Business (Marketing)
The MBA allowed me to acquire a lot of new knowledge, essential for my professional  career. A great thanks to both my family for their support and professors for being such inspiring and supportive....
Dimitrios Orfanoudakis, MBA