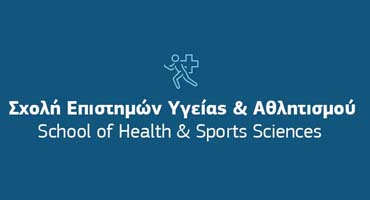 Schools
School of Health & Sport Sciences
Undergraduate
Welcome to the School of Health & Sport Sciences
In recent years, Health Professions evidence positive employment prospects in Greece, while giving graduates the flexibility to work in a variety of settings. The School of Health & Sport Sciences at Mediterranean College was established in order to provide the health industry with professionals who have in depth theoretical knowledge, combined with clinical training in contemporary approaches and integrated professional skills, which are considered absolutely essential in today's job market.
Our programmes are based on the UK higher education system, which emphasises on both research and the professional development of students. This is achieved through the methods of assessment used in the courses, as well as through the rigorous clinical placement framework in units of the private health sector (hospitals, clinics, health centres). Delivering the programmes in Greek and English language ensures that our graduates are highly competitive and flexible to meet the international job market requirements.
STUDIES WITH BENEFITS
Exclusive partnership with the University of Wolverhampton, a top-ranking UK university for Physiotherapy.
The Programmes are designed according to the standards of the professional associations (Health & Care Professions Council, British Association of Sports & Exercise Sciences).
Programmes that lead to professional recognition and practice in Greece.
Practical training in the largest rehabilitation centers (Metropolitan, Theseas, Arogi) & in sports centers and historical clubs (OSFP, PAOK, Panellhnios).
·
When health is absent, wisdom cannot reveal itself, art cannot manifest, strength cannot fight, wealth becomes useless, and intelligence cannot be applied.
Irofilos, 325-255 BC., ancient Greek physician and anatomist


Courses
Undergraduate
BSc (Hons) Sports Science and Coaching

No1 in Greece | TOP30 in the UK. Professional recognition & accreditation. Practical training & labs. Strong links with the sports industry....

BSc (Hons) Physiotherapy

Bilingual teaching: Greek & English. Professional recognition in UK & Greece. 1000+ hours clinical practice in rehab centers & hospitals. Contemporary content | Fully equipped physiotherapy labs....
Testimonials
I truly loved attending the classes for the Health Management programme. The courses were really interesting and the teachers made great effort to transmit their knowledge, which I honestly appreciate. Last but not least, my fellow students made last year more enjoyable and fun with their presence during classes! Thank you everyone for the great experience!...
Igodaro Victor, Executive Diploma in Health Care Management
In the Physiotherapy department of Mediterranean College we connect what we learn in theory into practice, through workshops and practical courseworks. From the second year and beyond, every year, the programme content includes clinical practice. All this, combined with our teachers who help us, support us and are experienced in what they teach, makes me feel confident about my skills as a physiotherapist....
Efitichia Proniou, BSc (Hons) Physiotherapy
The vast experience of Mediterranean College, along with the name of a renowned British university, the Manchester Metropolitan University, were essential selection criteria of this studies programme. The College's learning facilities are robust and they organise too many education activities to enrich our knowledge. We look forward to starting our clinical practice in the College's cooperating hospitals and rehabilitation centers....
Apostolis Kaliakoudas, BSc (Hons) Physiotherapy