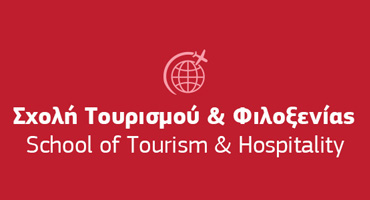 Schools
School of Tourism and Hospitality
Undergraduate
Postgraduate
Welcome to the School of Tourism and Hospitality
The School of Tourism & Hospitality at Mediterranean College has the vision to contribute in the improvement of services provided by Greek hospitality enterprises and in strengthening the competitive edge of Greek tourism worldwide. In order to achieve our mission, we provide the industry with highly skilled professionals, both at theoretical and practical level. Our aim is that every hospitality enterprise, regardless of its size, can have access to well-educated and professionally trained human resources.
In this context, we offer a selection of contemporary and innovative university courses, in collaboration with the University of Derby, among the top Universities in the UK for Tourism & Hospitality Studies (TOP-5, Guardian University Guide 2020). All courses focus on developing applied knowledge and practical skills through experiential learning and case study analysis, in partnership with well-known industry professionals and through internship opportunities in leading hotels.
STUDIES WITH BENEFITS
Degrees are awarded by the University of Derby, ranked No 5 in the UK for Tourism & Hospitality studies (Guardian University Guide 2020).
The first University Programme in Culinary Arts to be ever offered in Greece, exclusively at Mediterranean College.
Linking theory into practice, by using an extensive pool of guest lectures from the industry and through the support of our network of 70+ hospitality businesses.
The School is a member of the Association of Greek Enterprises (SETE), the international network of tourism professionals HOSCO and the UK Institute of Hospitality (IoH), with multiple opportunities for professional development and students' networking.
A structured apprenticeship/ paid internship scheme in the College's network of hospitality businesses is an integral part of the courses.
The art of hospitality is to make guests feel at home when you wish they were.

Courses
Undergraduate
BA (Hons) International Hospitality Management

1o στην Ελλάδα | TOP5 στη Βρετανία. Διασύνδεση με το UK Institute of Hospitality. Δίγλωσση εκπαίδευση + 2η ξένη γλώσσα. Έμμισθη πρακτική άσκηση....

BA (Hons) Professional Culinary Arts

Το 1ο Bachelor Επισιτισμού στην Ελλάδα. Νο1 στην Ελλάδα | TOP5 στη Βρετανία. Μονοετές | Ελληνόφωνο. Εξέλιξη σε θέσεις Manager....
Postgraduate
MSc International Hospitality Management

No1 UK University in Greece | TOP5 in the UK. Accredited by the Institute of Hospitality. English delivery enhances career perspectives. Networking with 50+ TOP Hospitality Organisations. ...
Testimonials
At Mediterranean College you get a degree from the University of Derby, a top ranked British University in Tourism. Here we learn how Hospitality is truly offered in a more practical way. Teaching is experiential, we learn by doing things in practice, we see how the departments of a hotel operate, through field trips, organised events, guest lectures with hotel managers and o mystery guests. The most important thing for...
Sophia Iakovidi, BA (Hons) International Hospitality Management
The most important for me is that we have the unique opportunity to do our internship in the Best Hotels in the country, making us ready to find a permanent job immediately after graduation....
Panagiotis Giannopoulos, BA (Hons) International Hospitality Management