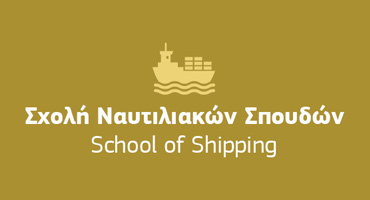 Schools
School of Shipping
Undergraduate
Postgraduate
Welcome to the School of Shipping
Shipping is a rapidly developing industry and one of the main pillars of our country, contributing almost 10% of the Greek GDP. The Greek-owned maritime business is the first amongst the European Union with almost 50% share, making our country a world leader in maritime transport and creating the corresponding need for trained executives, who can succeed in the modern business environment.
The School of Shipping has been established to provide the industry with professionals that are offered excellent theoretical, as well as practical training in shipping, in conjunction with the contribution of University of Derby, which is leveraging the experience of the British teaching system in shipping, stemming from the naval tradition of the country.
Our programs, along with the series of events, seminars and other educational activities, provide students with an enriched learning experience and offers the opportunity of taking advantage of all the benefits stemming from the British Education system in shipping. By following the best practices of maritime business management training, we are continuously close to the needs and student potential of each student, by building personal relationships, as well as creating a dynamic community of graduates with links to the Greek and international shipping market.
STUDIES WITH BENEFITS

Recently redesigned courses, accredited by leading professional bodies (CMI, etc.).
Multiple teaching & learning methods: lectures, seminars, case study discussions, labs, business games, tutorials, independent learning.
Multiple assessment methods: individual or group course-work, business plans, portfolios, online tests, exams, presentations, simulations, consultancy projects, dissertations.
Putting theory into practice, with the contribution of associate lecturers from the industry and the support of a wide network of 120+ partner corporations.
DNV GL Certification for Internal Auditor ISM-ISPS-MLC for Shipping Companies
We must free ourselves of the hope that the sea will ever rest. We must learn to sail in high winds.
Aristotelis Onassis



Courses
Undergraduate
BA (Hons) Business Management (Shipping)

No1 in Greece | TOP10 in the UK. CMI accreditation (Chartered Management Institute). Internal Auditor ISM-ISPS-MLC accreditation for shipping companies. Second foreign language taught: Chinese, Russian, Spanish....
Postgraduate
ΜΒΑ Global Shipping

The 1st ΜΒΑ to be offered in Greece (1989). No1 in Greece | TOP10 in the UK. Unique Global MBA in Shipping. Internal Auditor ISM-ISPS-MLC accreditation. ...
Testimonials