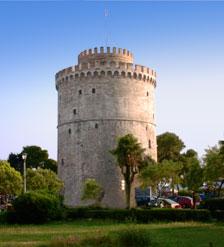 Thessaloniki (Greek: Θεσσαλονίκη, IPA: [θesaloˈnici]), historically also known as Thessalonica, Salonika or Salonica, is the second-largest city in Greece and the capital of the periphery of Central Macedonia as well as the de facto administrative capital of the Greek regions of Macedonia and Thrace. Its honorific title is Συμπρωτεύουσα (Symprotévousa), literally "co-capital", a reference to its historical status as the Συμβασιλεύουσα (Symvasilévousa) or "co-reigning" city of the Byzantine Empire, alongside Constantinople. According to the 2001 census, the municipality of Thessaloniki had a population of 363,987, while its urban area had a population of 786,212. The Larger Urban Zone (LUZ) of Thessaloniki has an estimated 995,766 residents (2004), while its area is 1,455.62 km2 (562.02 sq mi).[3] With a history of over 2,300 years, it is one of Europe's oldest cities.
Thessaloniki is Greece's second major economic, industrial, commercial and political centre, and a major transportation hub for the rest of southeastern Europe; its commercial port is also of great importance for Greece and the southeastern European hinterland. The city is renowned for its events and festivals, the most famous of which include the annual International Trade Fair, the Thessaloniki International Film Festival, and the largest bi-annual meeting of the Greek diaspora.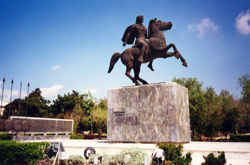 Thessaloniki is considered northern Greece's cultural and educational centre. It is home to numerous notable Byzantine monuments, including the Paleochristian and Byzantine monuments of Thessaloniki, a UNESCO World Heritage Site, as well as several Ottoman and Sephardic Jewish structures. The city's main university, Aristotle University, which is the largest in Greece.
Watch the video YOU IN Thessaloniki

source: visitgreece.gr