Dr. Kitonakis Nikolaos

Dr. Nikolaos Kitonakis holds a Bachelor in Political Sciences and Public Administration from the University of Athens, an M.A. (Excellent) in International & European Studies from the University of Athens, an MBA from Athens University of Economics and Business and a PhD in Investment and Economics from the University of Athens. He has extended teaching experience, professional experience in private companies and public organizations and he has also participated in a variety of research projects.
Manologlou Sotirios
Mr. Sotirios Manologlou is a PhD candidate in the Department of Maritime Studies of the School of Shipping and Industry, at University of Piraeus. His field of research is related to the economics of the environment and the protection of the marine environment. He holds a Master Degree (2009) in "Applied Economics and Econometrics" from the Department of Economics at the Athens University of Economics and Business. For his postgraduate studies, he received a two-year scholarship from the΄΄ Propontis΄΄ Public Benefit Foundation of shipowner D. Diamantidis. In 2006 he was declared a graduate of the Department of Maritime Studies of the University of Piraeus, having received two scholarships from the ΄΄National Scholarships Foundation'' for excellent performance. In addition to his studies, he successfully completed a one-year academic seminar at Hellenic Shipbrokers Association. He is a member of the "Union of Maritime Economists of Greece" and a member of the "Marine Science Laboratory" of the University of Piraeus. During his studies, he has participated in many national, European and international conferences as a speaker, focusing on sustainable development, protection and improvement of the coastal zone, sustainable tourism and especially maritime and the creation and certification of 'Green' ports. Since 2017 he has taught various courses such as: Insurance, English Maritime Terminology, Maritime Law, Logistics, Chartering, and at the University of Piraeus in the context of teaching experience, Environmental Port Certification, Marine Protection, Marine Protection.
Nikitaki Elisavet

Elisavet Nikitaki holds a Bachelor's Degree in Shipping from the University of Piraeus and a Master's degree in Shipping from the same University. She has worked in Shipping Companies to the Crew Department and to the Legal Department. She has also worked in boat service units. Elisavet has participated in the Ministry of Transport research "Edit & statistical analysis of the gas analysis laboratory test results" in collaboration with the Department of research of the technical Institute of Piraeus. Her academic specialisation is on "Economics and Management in the maritime sector". Over the last six years, she has teaching experience of over 3200 hours at a post-high school education level. She has also attended many seminars on shipping. She holds diplomas in English, Italian, Spanish and Chinese language. Teaches: Transport Policy.
Dr. Painesis Grigorios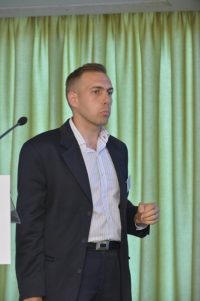 Grigorios Painesis holds a BSc in Marketing and Communication from Athens University of Economics and Business (2005) and an MSc in Management Science and Operational Research (with Distinction) from University of Warwick (2007). He also holds a PhD in Marketing from Athens University of Economics and Business (Department of Marketing & Communication) with focus on consumer behavior and retail marketing. His research papers have been presented in International Refereed Conferences of established value. He has been awarded with scholarships and awards for consecutive years by the Greek State Scholarship's Foundation, the Ministry of Education and the Athens University of Economics and Business. Since 2009 he teaches Marketing, Data Analysis and Market Research modules in the Technological Educational Institution of Athens (Faculty of Management and Economics, Department of Marketing) and in colleges. His main academic interests lie in the fields of Consumer Research, Marketing Research, Retail Marketing, Sales Promotions and Quantitative Marketing Decision Models. He has conducted marketing research projects for the Greek Youth Institute, the Hellenic Retail Business Association (H.R.B.A.), AbbVie Pharmaceuticals S.A. and Efficient Consumer Response Hellas, while he is Specialist Advisor and Consultant of the Athens Startup Business Incubator (working under the auspices of the Athens Chamber of Commerce and Industry) for the development of entrepreneurial and business skills in the area of marketing. Teaches: Consumer behaviour, Research methods.
Dr. Prontzas Panagiotis

Senior Manager at a Global Audit Firm, with a sector focus on the evaluation of investment decisions and strategic management. He was a project management officer, managing mergers & acquisitions at the Public Power Corporation Renewables S.A. and an economic analyst at large private and public sector organizations (Pension Mutual Fund Management Company S.A., Council of the Accounting and Auditing Oversight Board, Ministry of Economy and Finance, Social Security Institute). He has also worked for macroeconomic policy programmes of international organizations (OECD, European Commission) and as a researcher on reform policies for the Academy of Athens. He has studied Economics and he holds an MSc in Finance as well as an MSc in Economic Development and a PhD in Applied Economics. Teaches: Financial Management.
Seremelis Alexander

Alexander Seremelis holds a Master of Science in Shipping from the University of Piraeus & a Degree of Hotel & Tourism Management from Higher Technological Institute of Athens. His academic expertise & area of interest is focusing on Passenger & Cruise Shipping. He has worked in Passenger Shipping Companies & represents in Greece an International Crew Management Company. He has lectured for over 3.000 hours and since 2008 he has been lecturing 'Management of Shipping Operation' at Mediterranean College. He is holding Shipping Certifications from German Lloyds & Bureau Veritas & he has participated in educational seminars from the Institute of Continuous Adult Education. Finally he has visited over 200 cities in Europe, Middle East & Asia for Leisure & Business purposes. Teaches: Maritime economics, chartering.
Spyropoulou Stavroula

Stavroula Spyropoulou was employed in Hiraclis company since 2005 to 2009, where she has been the coordinator of projects, tools and performance of the Supply Chain. Her main responsibilities included project management in the Logistics Department, mathematical programming tools managing to optimise the total cost of the supply chain, as well as the establishment and monitoring of the key performance indicators (KPI'S) of the department. Previously, she worked at the Deutsche Bank in Germany, and as a consultant at PWC in Switzerland and Greece. She graduated with honors from Business Administration of the University of Piraeus and she holds an Executive MBA from the Athens University of Economics & Business. Teaches: Logistics
Theodorakopoulos Andreas

Andreas Theodorakopoulos holds a BSc in Business Administration from the Athens University of Economics and Business and an MBA from Kingston University. He has been working for more than 20 years in the fields of Education, Communication, Advertising and Media as executive and consultant. He is a member of the Greek Institute of Sales. He has published many articles in journals and newspapers and has participated as speaker in many congresses. Teaches: Marketing, Communications.