Two impressive Graduation Ceremonies, dedicated to the topic of Sustainable Development and its key goals, took place in an emotional atmosphere, in the presence of the graduates and their invited relatives & friends. "Sustainable Future: Make the Change" was the general title of the two Graduation Ceremonies – Class of 2022, which were held in Athens, on Monday, February 20, 2023, at the Hellenic Cosmos Cultural Center, and in Thessaloniki, on Thursday, February 23, 2023, at the Megaron Concert Hall.
The graduates of the Class of 2022 were first welcomed by the Founder & Honorary President of Mediterranean College, Professor, Mr. Sophocles Xinis: "Both XINI Group since 1957, and Mediterranean College for 46 years now, have always placed at the center of their educational philosophy the anthropocentric approach and contribution to society, through a series of multilevel actions and initiatives on issues of public awareness: for the Environment, Volunteering, Quality Free Education. Don't forget that Education also needs social sensitivity, as it is inextricably linked to the Economy, the Environment and Society, the 3 basic pillars of Sustainable Development. Based on the above, and with a sense of responsibility towards its thousands of successful graduates, but also towards all young people of our country who have the right to Quality Education – beyond exclusions and socio-economic inequalities – Mediterranean College highlights at this year's Graduation Ceremony the major issue of Sustainable Development. And with the slogan "Sustain Your Future", we motivate our students, alumni, and society in general, to mobilize and act with a vision and perspective for a Sustainable Future, in a fairer and more peaceful world, on a healthier planet!"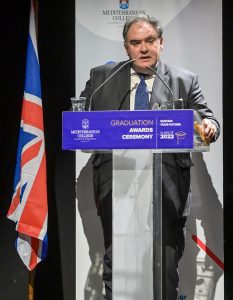 "It is important that we all move forward together in this direction, knowing however the limits of the planet, which we sometimes transcend…" With a warm applause "to the heroes of the moment", as he described the graduates and their parents, the Key-Note Speaker of the Graduation Ceremony in Athens, Professor Dimosthenis Sarigiannis, Faculty Member – Chemical Engineer, Associate Professor of Environmental Engineering, Department of Chemical Engineering, School of Engineering, Aristotle University of Thessaloniki, began his speech. Mr. Sarigiannis focused on the issue of Sustainable Development which, "it poses challenges to the development of society and economy, even culture, and all this is done against a background of Climate Change… To be able to face these challenges, we need a systemic change, a change in the way we see things… And it is the new generation that will make the difference.. For this to be possible, both Environmental, Economic and Social Sustainability should be considered…
Mr. Sarigiannis, also referred to the Sustainable Development Goals "It is important to be aligned in one direction. There are many actions to achieve sustainable development and many of them can be done in just one quarter! It is enough to want, and most importantly, to pave the way for these children who are finishing their studies today to create a more sustainable, resilient and less crisis-free world."
«… Investment in a cohesive society, sustainable development, human and social capital and quality of life will be crucial to create opportunities for modern businesses, boost employment, wealth and sustainable growth in the future. Therefore, indicators beyond gross domestic product should become tools that, not only monitor and measure, but also provide information on policy development, improve communication and encourage target setting…", pointed out the Key-Note Speaker of Thessaloniki, Mr. Athanasios Savvakis – Former President Federation of Industries of Northern Greece (). President Hellenic Energy Exchange.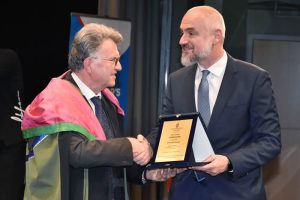 Representatives of the partner British Universities attended the two events and addressed the new graduates.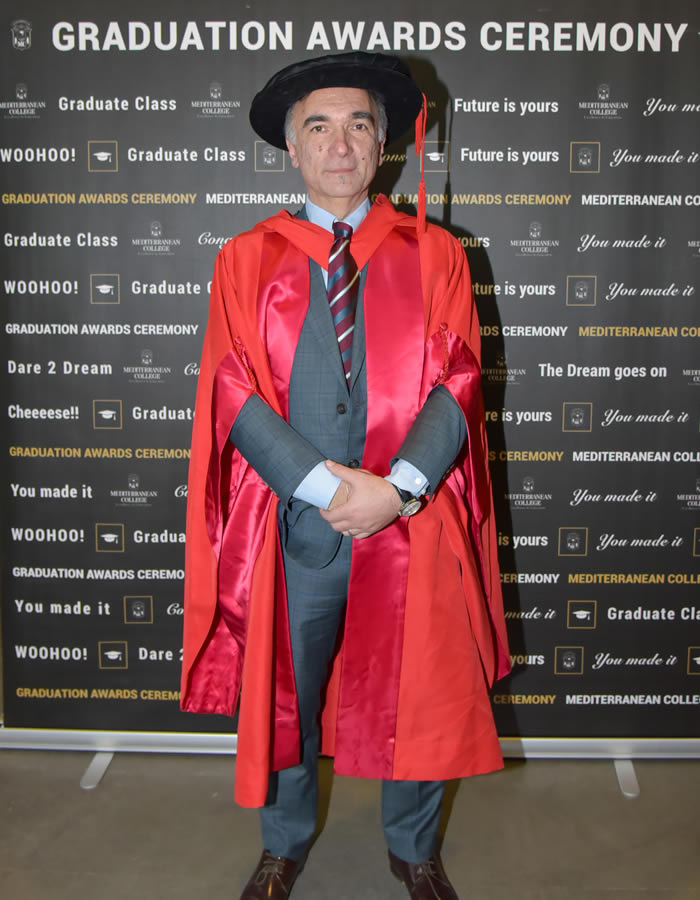 Professor Alex Molasiotis
PVC Dean of College of Arts, Humanities and Education, University of Derby
"Whatever you do, do it with ethics, responsibility, responsibility & dignity. Only in this way can you make a difference in the world…"
"By completing your studies, some of you will start looking for a job while others already have. For those of you who will be looking, I want to tell you that you may not succeed on the first try, but do not stress. The effort counts a lot and you have proven with your years of study that you can do it. Remember that whatever you do, do it with ethics, responsibility and dignity. This is the only way you can make a difference in the world." Regarding the collaboration between Mediterranean College and the University of Derby, Professor Molasiotis noted: "We are absolutely satisfied with the cooperation with Mediterranean College and the high quality of studies that the College offers. As graduates of Mediterranean College you are academically equal to anyone else who has obtained a degree in England."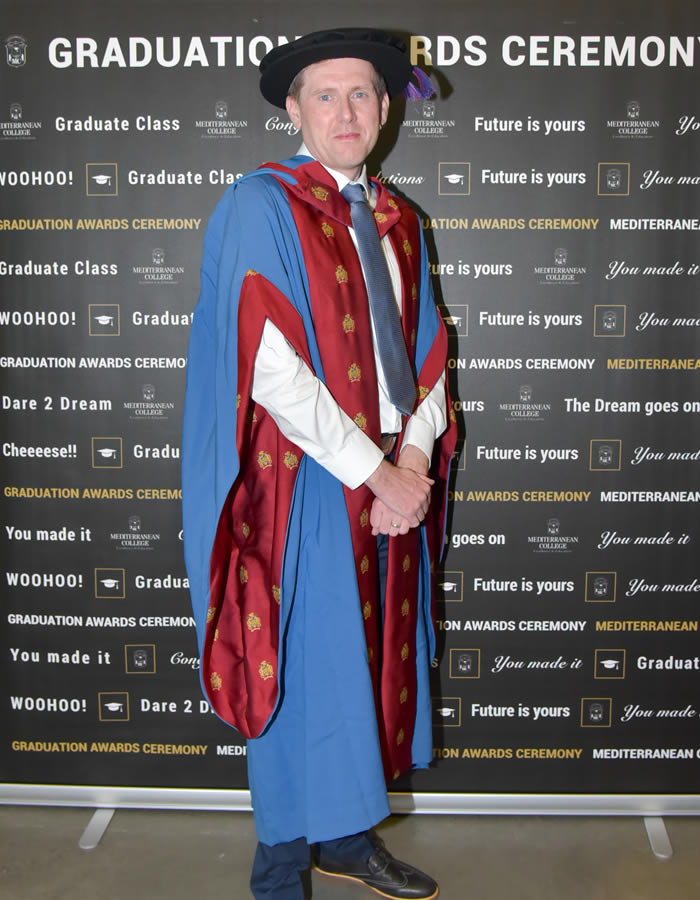 Doctor David Atkinson
Associate Dean, Recruitment & Partnerships, University of Wolverhampton
"Like gold and diamonds, education is equally valuable…"
"Like gold and diamonds, your education is one of your most precious things that is not very easy to obtain. Like precious metals and stones, an education takes a lot of hard work and effort to grasp. Like the extraction of gold and diamonds, a lot of sweat, tears is a part of the process of obtaining an education… For years to come, make sure to use your education everyday of your working life to help others to do good. Use your education you' ve obtained so to make the world a better place for all…"
During the Ceremony, the General Director of Mediterranean College, Mrs. Katerina Xini, briefly presented the key actions of Mediterranean College's Sustainable Development Plan, based on the Environment, Society and Corporate Governance, listing the most important goals of the College for the year 2030: "At Mediterranean College we believe that it is the right time to highlight the need to mobilize everyone – state, organisations and citizens – for a more sustainable future. We believe, however, that WE should be the FIRST to make the START!"
Degrees and diplomas of Bachelor's, Master's, Higher National Diplomas and Professional / Executive Diplomas were awarded to the 695 graduates of the Class of 2022, in Athens & Thessaloniki. The graduates were from the schools of Business Administration, Informatics, Psychology, Education Sciences, Tourism & Hospitality, Engineering and Health & Sports Sciences of Mediterranean College (MC) and Mediterranean Professional Studies (MPS).
The new graduates will now be graduates, top universities and holders of diplomas from world-renowned certification bodies, having acquired all the necessary professional skills for a successful career in the demanding labor market.
In the Special Awards Section at the Athens Graduation Ceremony, an honorary "Lifetime Achievement" Award was awarded to Professor Emeritus, former Vice-Rector of the National & Kapodistrian University of Athens and Member of the Academic & Scientific Council of Mediterranean College, Mr. Napoleon Maravegia.
The Social Responsibility & Sustainable Development Award was awarded to Melina Taprantzi, Founder of the Non-Profit Movement Wise Greece, for all her work.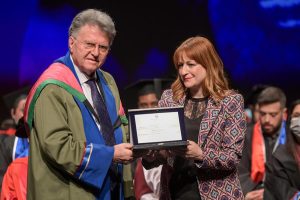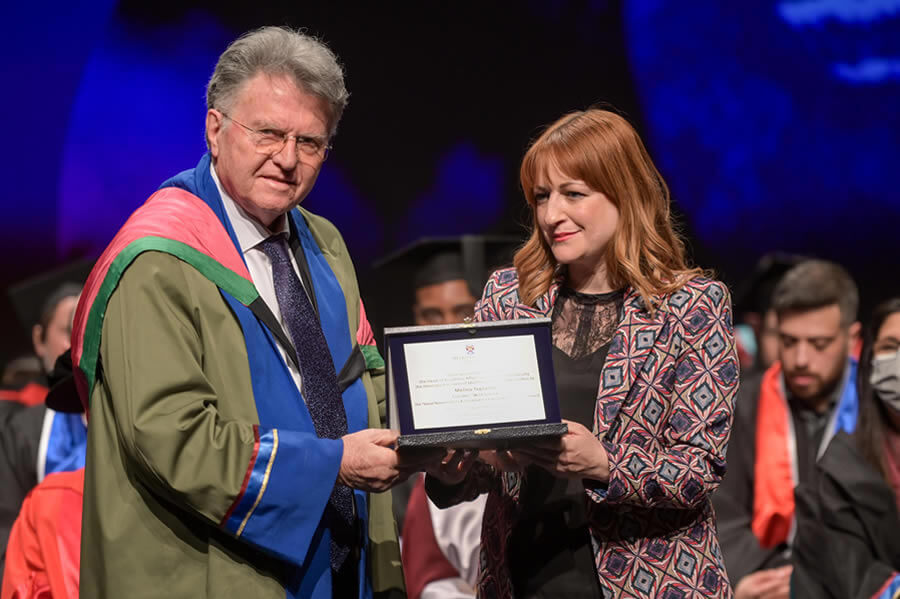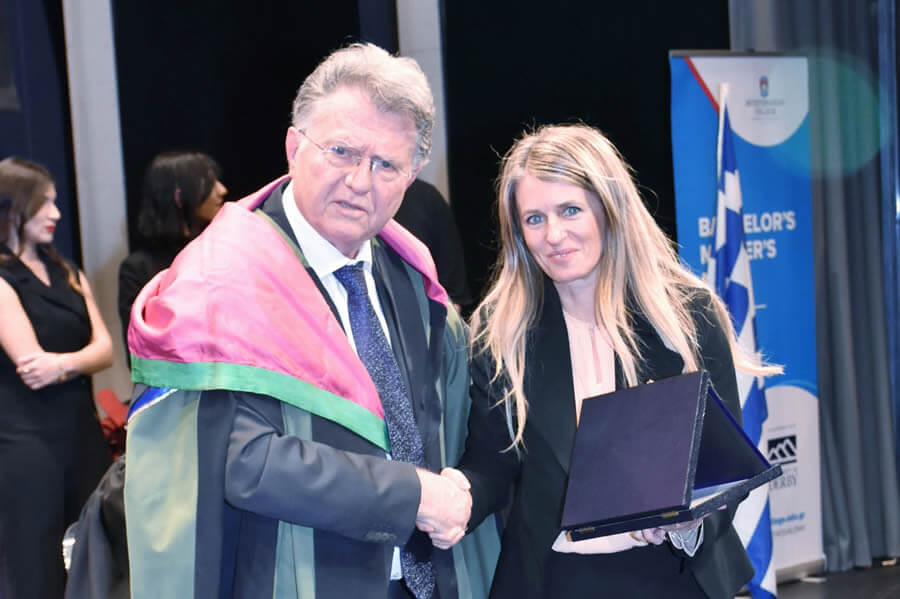 At the Thessaloniki Ceremony, the Social Responsibility & Sustainable Development Award was awarded to Mrs. Eleni Andreadi, Director of Sustainability and Corporate Social Responsibility of Sani/Ikos Group, recognizing her significant contribution to society as well as for all her work.
Academic scholarships were awarded to those who excelled and special awards were given to professors and students who stood out during the academic year 2021-22.
SEE HIGHLIGHTS