Christoforidis Charalampos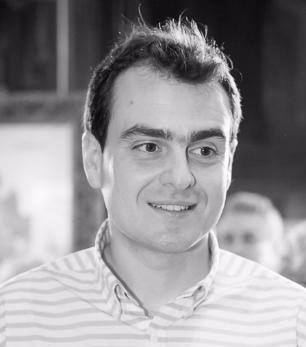 Charalampos Christoforidis has a degree in International & European Studies from University of Macedonia and an MSc in Accounting & Business from Aston University. He works as Transportation & Distribution Supervisor at Olympic Brewery. He has worked in various higher positions related to Supply Chain Management and Project Management in companies such as Aldi, Kassoudakis Bros, Mediterranean Shipping Company and Baufox. Teaches Operations Management, Project Management and Global Supply Chain Management at Mediterranean College.
Dronouda Maria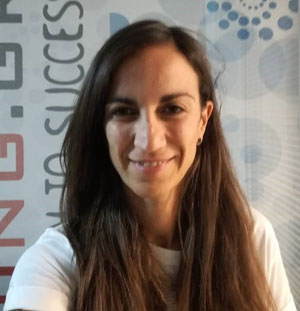 Maria Dronouda studied at the Economics Department of the Aristotle University of Thessaloniki and continued her studies with a Master's degree in Informatics and Management (Aristotle University of Thessaloniki). She is also a graduate of ASPETE (School of Pedagogical and Technological Education), where she took the basic directions regarding adult education, pedagogy, teaching modern pedagogical methods and experiential teaching methods. Maria expanded her studies with an MSc in Tourism Business Administration (Hellenic Open University), showing strong interest in the tourism sector. During the last 7 years, she works at AA+Partners, specializing in human resources consulting in the tourism sector, and especially in vocational training.
Karalazarou Maria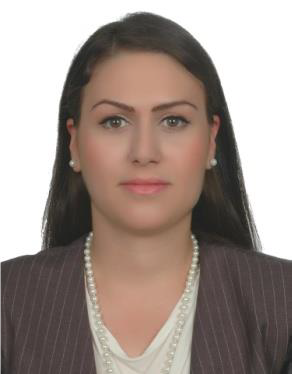 Maria Karalazarou is a graduate of the Tourism Department of the Technological Educational Institute of Thessaloniki and holds an MBA specializing in Tourism and Hospitality from the English-speaking program of the Technological Educational Institute of Central Macedonia. She speaks 5 languages ​​and has been working in the Porto Palace Hotel & Conference Center for the last 10 years in the sales department specializing in organizing events. Maria Karalazarou has been working as a lecturer for the last 2 years with the Mediterranean College.
Karathanasi Dimitra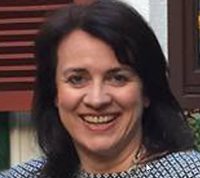 Dimitra Karathanasi is a highly qualified Τourism expert. With a Diploma of the famous Hotel Management School "Les Roches", in Switcherland, she has started her career in London with the Hilton company and returned to Greece in 1995. She worked for more than 12 years for the largest Hotel Chain in Greece, "The Daskalantonakis Group", at all Sales and Marketing positions of the company and coached a large team of sales personnel, in Greece and abroad as the Executive Director (Commercial). Since 2008 she has her own private company and works as a Hotel Management Consultant. She also has a wider knowledge of the Greek Tourism industry.
Kongas Demetrios
Programme Leader Undergraduate Programmes, Business School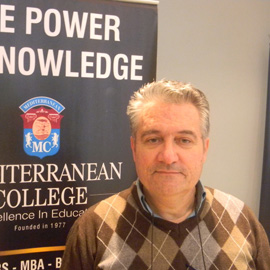 Demetrios Kongas holds a BA and an MA in Sociology from the University of Essex. His research interests are around the area of organizational theory, ideology, labour relations, industrial conflict, culture and leadership. He has written a book on organizational theory and personnel management and is currently writing a book on sociology. Demetrios Kongas is the Programme Leader of Undergraduate Programmes in the School of Business at Mediterranean College, Athens, Greece, and responsible for teaching the modules, Understanding People in Organisations, Managing People, Developing Leadership and Management and Business Consultancy Project. He is also teaching Quality, Leadership and Management in the MA Education Leadership and Management programme.
Kyanides Yannis, PhD c.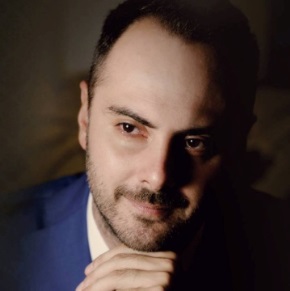 Yannis is an economist – entrepreneur and a PhD candidate at the University of Macedonia. He graduated from the Department of Business Administration of the University of Macedonia, where he also completed his postgraduate studies, gaining an MBA. He has worked as a consultant in various consultancy agencies (2005-2007), as an analyst at the Federation of Industries of Northern Greece (2007-2008) as well as a scientific associate to former MP Vasileios Geranidis (2008-2012). Today he is active in the area of Business Consultancy and Energy. He is the author of a number of articles that have been published on newspapers and magazines.
Kyrkimtzis Vladimiros
Marketer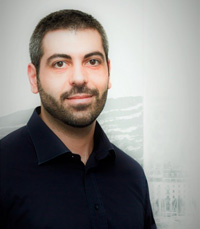 Vladimiros is a graduate of Aston University with a Master's degree in Marketing Management. He specialises in primary consumer research with an emphasis in brand tracking, consumer segmentation & new product development methodologies. As a programme director in leading consumer research houses, he has consulted the most prominent multinational brands in the consumer-packaged goods industry, organising and executing large scale multinational research. His academic interests focus on information dissipation and data analysis / management with the use of modern technologies, as well as the evolution of consumer research methodologies in the digital era.
Dr. Markaki Evangelia

Evangelia Markaki is PhD holder on Applied Statistics from Aristotle University of Thessaloniki and Scientific Director of the Company Excellentia International. She works in the private sector in area of Human Resources Management as coordinator for managing recruitment and selection procedures, conduct interviews, planning of human resources, the training and development assessment programs. The last 5 year she realized more than 3,000 interviews with staff and candidates. She has worked in the Greek Broadcasting Corporation (ERT), the regional channel Blue Sky, during the Olympic Games of Athens 2004 Athens in Olympic Broadcasting (AOB), in consulting companies and in VPRC. Since 2008 she works in the field of vocational guidance, career development and career planning. Dr. Markaki has been scientific coordinator in planning and career development organizations providing career guidance services to adolescents, adults and to unemployed people, organizing services of career development and of outplacement services in the labor market. She has over ten years of experience in education. Since 2009 until today She teaches in higher education in the public and private sector. She graduated from the Department of Communication and Media Studies of the University of Athens. In 2007 she graduated from the Master of Human Resource Management program at the Athens University of Economics and Business (AUEB). She participates presenting scientific work in conferences and congresses in Greece and abroad. She has been speaker in conferences and seminars of private and public institutions. She speaks four foreign languages: French, English, Italian and German. He is a member of European and International Associations of Research, of Human Resources Management and of Data Analysis.
Panagopoulou Dionysia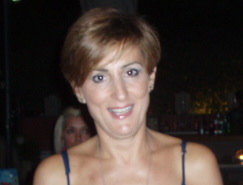 Dionysia Panagopoulou is an acknowledged professional in the hospitality industry with deep knowledge of Greek Tourism and specialisation in Hotel Business Administration. She graduated from the Technological Educational Institution of Athens with a B.A. in Business Administration. Then, she specialised in the Hotel Business. She started her career at Capsis S.A. and she has since worked as an executive in well-known hotels corporations, such as Divani Caravel S.A, Grecotel and Athenaeum Intercontinental.
Panidou Maria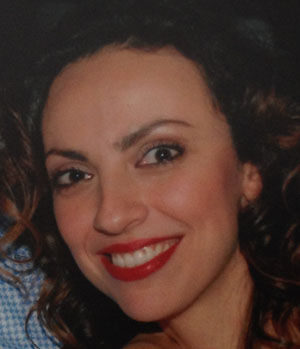 Maria Panidou started her studies at the Technological Educational Institute of Larissa, where she received a degree in Tourism Management and continued with a Master in Business Administration (MBA) with specialization in Human Resource Management at the University of Macedonia. She has worked in several five star hotels such as Kempinski Hotel Nikopolis Thessaloniki, Porto Sani Village Suites and Asterias Suites of Sani Resort. In recent years she has been working with the Alexander Technological Educational Institute of Thessaloniki as a scientific associate. Since October 2016 she is the program Leader of the School of Hospitality , Tourism and Culinary Arts of Mediterranean college of Thessaloniki.
Panos Spyridon
HR Director, PhDc.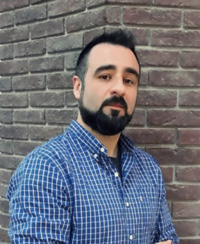 PhD candidate at the University of Thessaly in the field of Human Resource Management, holder of an MSc in Business Administration from the Staffordshire University and graduate of the Department of Economics at the University of Ioannina. He has publications in international journals. At the same time, he has worked in the private sector in business consulting, banking and as a consultant for the development and implementation of vocational training programmes. His research interests focus on the areas of modern Human Resource Management practices using Information Systems, Workforce Analytics, Leadership Strategy and Organisational Behaviour, Organisational Ambidexterity and Organisational Diffusion of Knowledge and Organisational Culture.
Psarommati Evangelia

Evangelia Psarommati has a cross-cultural working experience within the Management, Marketing and Communication field, specialised in the areas of Tourism, Sports and Culture. She is a University of Athens graduate, department of Physical Education and Sports Science. She holds a Master's Degree in Recreation, Parks and Tourism with concentration in Leadership from Virginia Com. University, USA. She has proven professional track record from private and public sector, corporations, institutions and non-governmental organisations in Greece and abroad. Strategic planning and implementation, partnerships and alliances development, stakeholders credibility establishment, fundraising and crisis management are some of the main responsibilities she has undertaken working on a senior level. She has worked with (indicative): Octagon - Events and Sports Marketing (Olympic Sponsorship Consultant), Bespoke (CSR Consultant), Dentsu Promoseven - Sports Marketing Agency, Asia (Sponsorships and Hospitality Consultant), SETE - Association of Greek Tourist Enterprises (Public Relations Manager), GNTO - Greek National Tourism Organization (Executive Advisor).
Dr. Samaras Ioannis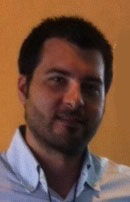 Dr. Ioannis Samaras was born in 1983 comes and lives in Thessaloniki, has an Accounting Degree, Master of Science Degree in Accounting and Finance from the University of Southampton in Great Britain and a PhD from the University of Macedonia, department of Applied Informatics. The purpose of the PhD was the International Accounting Standards and Financial Accounting. Regarding his working career/experience, he is co-owner and co-manager of a touristic unit (bungalows) located in the 2nd leg of Halkidiki which has 26 years of operation. Since 2006 he is owner and manager of an Accounting – Taxation office. Since 2008 has been teaching in an undergraduate and postgraduate level at TEI (Technological Educational Institute) of Thessaloniki and Serres as a research associate in the departments of Tourism Administration, Accounting, Marketing and Logistics (Logistics), and also has a remarkable research activity by writing articles for international scientific conferences and for international scientific journals.
Semertzian Rania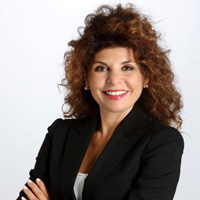 Rania Semertzian has studied and worked for seven years in the United States where she earned her MA degree from the Patterson School of Diplomacy & International Commerce, University of KY. She has over 20 years of experience in Communications & Marketing, in both the corporate and non-profit sectors in Greece and abroad. A multicultural professional that has worked in the US, France and Greece and has held upper level managerial positions at multinational corporations and institutions such as Vodafone, Private College, Estee Lauder USA, Kentucky World Trade Center, the Council of State Governments, etc. She is an Executive Trainer in Crisis Management, Communication and Customer Care skills. She is a mentor for startups and an accredited mediator by the Greek Ministry of Justice and by ADR-ODR International. Research interests: Crisis Management, Customer Care Excellence, Team motivation, Negotiations, Conflict Resolution and Mediation.
Dr. Sklavounos Nikolaos
Senior Business Consultant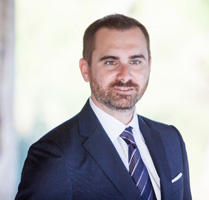 Nikolaos Sklavounos holds a PhD in Business Administration from the University of Macedonia in Thessaloniki. He also earned his BSc and MBA degrees from the University of Macedonia. He is an accredited instructor of adult continuing education and has extensive teaching experience in the fields of business and management. He has worked as International Sales Manager, International Key Account Manager and International Business Development Manager at Adtraxion Systems B.V. (Digital Signage Software – Hardware) in Oud Gastel, The Netherlands. He has also worked in numerous scientific research teams at the University of Macedonia. Research interests: international business, international strategic alliances, international joint ventures, exports and human capital.
Spiliotis Gerasimos

Gerasimos Spiliotis is a graduate of European and International Relations of Panteion University and holds a Master's degree in European Industrial Relations and Human Resources Management from Warwick Business School. He has been in the Human Resources sector for the last 17 years. He first started his career as a Human Resources Advisor in Crème dela Crème Human Resources and later he joined Delta Singular as a Human Resources Account Manager. From 2005 until 2010 he worked in KPMG in the People Services Department as an E-recruiting Coordinator. From 2010 to 2015, he assumed the position of Business Development Manager in the biggest e-recruiting site in Greece "Xrisi Efkeria" (xe.gr).From November 2013 until January 2015, he served as a chief editor in "Ergasia" magazine. In 2010, he cofounded "My Future Career", a company that provides career coaching services. Teaches: Personal Development.
Dr. Vrasida Maria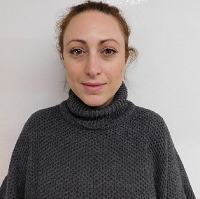 Holder of a PhD in Coastal Cities Development for Tourism from the University of Thessaly, an MA in Town and Regional Planning and a Degree in Architecture from the University of Liverpool. The spatial aspect in the development of tourism and the integrated tourism and cultural development planning are major research interests. She has published several original research papers and has participated in international conferences. She has worked as a lecturer in undergraduate and postgraduate courses teaching destination planning, tourism development and tourism and heritage management at Greek Universities and Technical Education Institutes. She has participated in the teams formulating strategic development and management plans for tourism for a number of destinations (Magnesia, Venice, Lebanon etc.).
Yannoulakis Manos

Manos Yannoulakis has studied hospitality and tourism at the Higher Hotel Institute in Cyprus and the University of Luton. Since 2001 he has worked in different hotels in Greece in different departments and managerial positions (Grand Resort Lagonisi, King George Palace, Porto Rio Hotel and Casino, Civitel Hotels and Resorts et al.) He is a member of the American Hotel and Motel Association and the Dratte. Teaches: Food and Beverage management.
Zafiriou Pantelis

Mr. Zafiriou Pantelis has thirty years of international experience in the field of tourism and related education. After a long career in Hospitality, Tourism, Conferences and Events in the United States of America, he began his academic career by teaching Hospitality and Tourism professions at the Clark County Skills Center in collaboration with Clark College in Washington State (2002-2006) He returned to Greece in 2007 where he served as Course Tutor for the Event and Convention Management program, as well as a Lecturer in Hotel and Restaurant Management at Alpine Center and City Unity College. In 2014 he started working with the SWISSAM Hospitality Business School in St. Petersburg, Russia, as Lecturer in Postgraduate Programs and Head of Education until August 2016 His collaboration with the Μediterranean College began in February 2018.