University of Derby, Mediterranean College's strategic academic partner since 2010, ranks 26th among 121 UK Universities, according to The Guardian University Guide 2020, constituting the highest ever ranking of the University. As of this, Mediterranean College remains the leader in the provision of private higher education in Greece.
Business School and School of Tourism & Hospitality have also seen some impressive performances for Derby:
Business School à TOP10
School of Tourism & Hospitality à TOP5
The University of Derby has also been ranked in the TOP 20 for Education.
The Guardian University Guide rank universities according to a variety of criteria, including students' satisfaction with the course, teaching, feedback and student-to-staff ratio.
Based on the quality of teaching, the University of Derby is in the 3rd place among 121 institutions, marking an increase of 18 places!
To find out more about the Guardian University Guide 2020, click here.
University of Derby has already the following distinctions:

TOP250 World Young Universities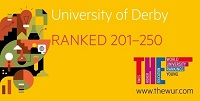 Teaching & Learning Strategy of the Year Award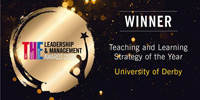 Ranked 10th in the UK for student employability (96.3% of graduates moved into employment within 6 months).
University of Derby's distinctions in combination with Mediterranean College's experience & reliability, constitute Mediterranean College as the ideal choice for accredited, European, university studies in Greece.