The University of Derby, a strategic partner of Mediterranean College since 2010, offering more than 30 academic franchise programmes to the 1st Anglophone College of Greece, has been ranked in the Top 30 UK University rankings, according to The Guardian University Guide 2019, which is a climb of 25 places!
University of Derby is now ranked 29th after jumping from 54th place out of 121 institutions making it the sixth most improved university in the UK, constituting the highest ever ranking of the University.
The School-specific rankings are also impressive for the University of Derby:
Top 10 rankings for:
Tourism & Hospitality
Business, Marketing & Management
Top 20 for:
Education
Mechanical Engineering
The recent Guardian 2019 rankings, position Mediterranean College in the 1st place amongst all British Universities that are represented in Greece – both in the general rankings, as well as the rankings according to the Programmes* that are offered (Business Management, Mechanical Engineering, Tourism & Hospitality, Psychology, Education)
The Guardian university league tables, rank universities according to a variety of criteria considered most relevant to students, including students' satisfaction with the course, teaching, feedback and student-to-staff ratio. Institutions receive an overall score and individual assessments are also given for a whole range of criteria including employability, spend per student and, new for this year, continuation.
To find out more about the Guardian University Guide 2019, click here.
This year's achievements for the University of Derby also include:
TEF GOLD

Gold award reflecting the excellence of University of Derby's teaching, learning environment and student outcomes. The awards cover undergraduate teaching.
TOP250 World Young Universities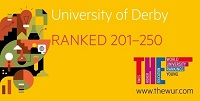 The University of Derby has been included as one of the world's top 250 new universities, in the prestigious Times Higher Education (THE) Young University Rankings 2018.
THE's university rankings are recognized as the world's most comprehensive, balanced and trusted, they are a vital resource, trusted by academics, students, their families, industry and governments globally.
Teaching & Learning Strategy of the Year Award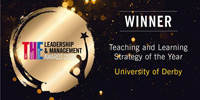 The University of Derby has won a prestigious national award for its Teaching and Learning Strategy 2016-2020.
THELMA_2018_Award
The institution scooped the Teaching and Learning Strategy of the Year Award at the Times Higher Education Leadership and Management Awards (THELMAs) in London on Thursday 21st June.
University of Derby was one of six institutions shortlisted for the category, designed to recognize 'a teaching and learning strategy that is distinctive and innovative, has enhanced both the student and staff experience, and reflects an institution's core values.'
The impressive achievements, recognition and rankings of University of Derby, in conjunction with the long term academic experience and credibility in undergraduate and postgraduate studies offered by Mediterranean College since 1977, constitute the best choice for high level British studies, while living in Greece.
For more information on Mediterranean College undergraduate and postgraduate programmes, do not hesitate to contact us.